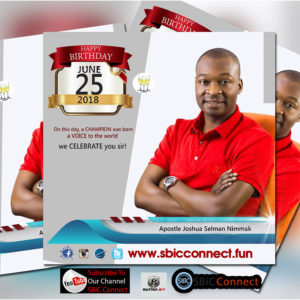 "Thank God I met you on my way to God's kingdom, I blessed the day I met you, more grace upon you sir. I really blessed the name of the Lord for what God has done in my life through your messages. I was baptized by the Holy Spirit through one of your messages.
When I started I don't even know, it just started like this… Tar tar tar. In fact that day I don't even know that am carrying something until later when a brother prayed with me..all glory back to God.. Glory! . I can't even forget many impartations which you have impacted into my life through the gift of the Spirit which the Lord as embedded in you through your messages, may u never depart from Grace…
You are my distant mentor, am looking forward to that day when I will meet you, sir. Happy birthday to you sir long life and prosperity dad!… I know am carrying SOMETHING I respect what am carrying not for boosting. I know am carrying SOMETHING!
If not for you where will my spiritual life be today..don't think otherwise I know what am saying my spirit bear me witness… Thank God I met you… Fresh 
🔥 from the Holy Ghost the Lord will Lavish it on you, sir, this day… Although you may not know me but I know you, you have blessed my life bountiful…Thank you, sir! HAPPY BIRTHDAY LONG LIFE AND PROSPERITY IN MORE LIGHT OF HIM..This my token." –Oluwaseun Olamide Olalekan
"A man whose hunger for God is so real, it feels like you can literally touch it…" –Loretta Anene

"My Father! My Father!!
You are a true personality of what the scripture refers to as the "living epistle".
You saying YES to God and His truth has brought joy and light to many generations and even generations yet unborn.

I listen and act on the teachings you give even in my subconscious state. Oh how I love you Papa.
May your heart desires be granted and may the promises you've received in the secret place become openly fulfilled.
#HappyBirthdayApostleJoshuaSelamanNimmack" –Alese Mary Oluwabunmi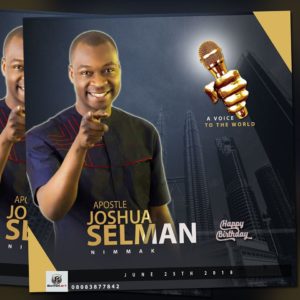 "Thank you for saying yes to Jesus, a man whose hunger for Christ is contagious, the messages are changing lives. The Lord blessed and increase you Sir." –Yohanna Pukuma 
"I pray that the good Lord in his infinite mercy will continue to multiply your grace and wisdom and fill you with fresh anointing, that you will fly on eagles wings and soar far higher than the previous years. Our General, a generation believes in your mandate and I am one of them. We love you daddy" –Ige Joshua Ephratah
If our impression of our heavenly father is tied intricately to our earthly father. I again have blessed beyond measures…I want to thank God for nurturing an envoy like you sir…you have been a blessing to a generation…thank you for waiting upon God to be anointed for this generation…I pray that God will continue to use you for the advancement of his kingdom. may the Lord's Blessing continue to be with you and your family and may his word continue to move you from strength to strength. I wish you all the best and many more birthdays to come. We love you sir" -JOSEPH PRINCE IBE AND NOSA BECKY OSASERE
Blessed Birthday Apostle Joshua Selman Nimmak
Good News:
Do You Know taking effect from now! ALL Apostle Joshua Selman Nimmak's Messages are downloaded at a Click? We just brought an end to the difficulty you experience with downloads, thus http://www.sbicconnect.fun what more?
Moreso, taking effect fully from 1st July 2018 all our ebooks will be downloaded at a click. Our team is working relentlessly to make you have fun over all our downloads! Something Big is Coming that you must not miss out of!
As a reminder, our ebooks are accessed at http://www.sbicconnect.fun/ebooks Sermons at http://www.sbicconnect.fun/sermons Spiritual Worship at http://www.sbicconnect.fun/music and Apostle Joshua Selman Nimmak's Catalogued messages at http://www.sbicconnect.fun/koinonia while his external ministrations are available at http://www.sbicconnect.fun/ajs-external-ministrations