Extraordinary Fruitfulness Koinonia with Apostle Joshua Selman Nimmak[First Koinonia Service for 2019]
Snippets:
Lift up your voice and praise the Name of God, for bringing you into the year 2019.
Genesis 17:6 (KJV) And I will make thee exceeding fruitful, and I will make nations of thee, and kings shall come out of thee.
God directs people by making a commitment through His words. God's word is His token of certainty.
God dwells in the realm of eternity but His operations with men on the earth is not governed by the mystery of times and seasons.
The moment God's Word is released, the Holy Spirit begins to hover upon the Word to make it a reality.
It takes engaging the relevant mysteries of the Kingdom to replicate it on earth as it is in heaven.
Genesis 35:11 (KJV) And God said unto him, I am God Almighty: be fruitful and multiply; a nation and a company of nations shall be of thee, and kings shall come out of thy loins;

"From the rising of the sun, to the setting of the same,
We give you God the highest praise.."- Song

Psalms 1:3 (KJV) And he shall be like a tree planted by the rivers of water, that bringeth forth his fruit in his season; his leaf also shall not wither; and whatsoever he doeth shall prosper.

John 15:8 (KJV) Herein is my Father glorified, that ye bear much fruit; so shall ye be my disciples.
Fruitfulness is a validation that you were truly mentored by God. It's proof that you are part of Him.
2 Corinthians 9:8 (KJV)
And God is able to make all grace abound toward you; that ye, always having all sufficiency in all things, may abound to every good work:
Every possibility given to the saints that are rooted in Christ is called "Grace". It is a spiritual warehouse that hosts every arsenal that is in store for believers.
Fruitfulness occurs when you are assisted by God. God's grace is supplied to birth possibilities in all ramifications.
God is able, it is within His capability to make all grace available. God will not send you without equipping you properly.
To have extraordinary fruitfulness means to;
1. Establish territorial dominion through unusual consistent and ever-increasing result.
2. To expand, break borders and venture into horizons
3. A mighty manifestation of supernatural results.
To have extraordinary fruitfulness means;
4. A time of restoration
5. A time of great favor
Colossians 1:9 (KJV)
For this cause we also, since the day we heard it, do not cease to pray for you, and to desire that ye might be filled with the knowledge of his will in all wisdom and spiritual understanding;
Isaiah 32:15 (KJV)
Until the spirit be poured upon us from on high, and the wilderness be a fruitful field, and the fruitful field be counted for a forest.
Keys To Experiencing Extraordinary Fruitfulness
1. Embracing the Ministry of the Word.
There are three dimensions of the Word of God that must be embraced to experience fruitfulness:
i. The knowledge of His will.
ii. The Word of God as wisdom.
iii. The word of God manifesting as spiritual understanding.
Acts 20:32 (KJV)
And now, brethren, I commend you to God, and to the word of his grace, which is able to build you up, and to give you an inheritance among all them which are sanctified.
John 15:16 (KJV)
Ye have not chosen me, but I have chosen you, and ordained you, that ye should go and bring forth fruit, and that your fruit should remain: that whatsoever ye shall ask of the Father in my name, he may give it to you.
Whenever you are in doubt of the voice of God, let the Word of God be your guide.
An ordination is a system of authorization. The Word of God ordains you to be fruitful.
2.  The Ministry of the Holy Spirit.
Zechariah 4:6 (KJV)
Then he answered and spake unto me, saying, This is the word of the LORD unto Zerubbabel, saying, Not by might, nor by power, but by my spirit, saith the LORD of hosts.
Isaiah 48:16 (KJV)
Come ye near unto me, hear ye this; I have not spoken in secret from the beginning; from the time that it was, there am I: and now the Lord GOD, and his Spirit, hath sent me.
John 16:13 (KJV)
Howbeit when he, the Spirit of truth, is come, he will guide you into all truth: for he shall not speak of himself; but whatsoever he shall hear, that shall he speak: and he will shew you things to come.
It takes the illumination of the Holy Spirit to grant you an understanding of the scriptures beyond human intelligence.
One of the duties of the Holy Spirit is to guide you.
Deuteronomy 28:1 (KJV)
And it shall come to pass, if thou shalt hearken diligently unto the voice of the LORD thy God, to observe and to do all his commandments which I command thee this day, that the LORD thy God will set thee on high above all nations of the earth:
Divine Instructions For 2019:
1. Be intentional about your spiritual growth and progress.
Place priority on your time with the Word, prayers and corporate fellowship. These are the spiritual strategies that will keep you regardless of the vicissitudes of life.
Devise a strategy for your spiritual growth. You will never have time for God in your life, when you don't create it.
2. Be intentional about building capacity through proper exposure and useful Word based information.
3. Be determined to live by faith. (Romans 1:17, Galatians 3:11, Hebrews 10:38).
4. Strive by the Spirit to be exceptional in character and lifestyle.
Defeat behavioral limitations, the grip of past failures and the limiting grip of culture on your character.
Your life is a model. It should depict a character that is worthy of emulation. Beware of negative behaviors that the society deems normal.
5. Make up your mind to be responsible.
To be responsible means to have a sense of obligation and be duty bound to your family and destiny.
Declare: In the Name of Jesus, I receive grace to be responsible.
6. Resist the pressure of pride, competition, and vainglory
Proverbs 16:18 (KJV)
Pride goeth before destruction, and a haughty spirit before a fall.
Proverbs 29:23 (KJV)
A man's pride shall bring him low: but honour shall uphold the humble in spirit.
Embrace true humility as a lifestyle and a value system.
Lord, I curse every spirit sponsoring pride in my life. Adorn my life with humility.
7. Be intentional about walking in love.
1 John (KJV)
3:11 For this is the message that ye heard from the beginning, that we should love one another.
3:14 We know that we have passed from death unto life because we love the brethren. He that loveth not his brother abideth in death.
1 John 3:16 (KJV)
Hereby perceive we the love of God, because he laid down his life for us: and we ought to lay down our lives for the brethren.
3:18 My little children, let us not love in word, neither in tongue; but in deed and in truth.
The hallmark of transformation is love, not knowledge.
Pray: Lord, give me the grace to be obedient to divine instructions.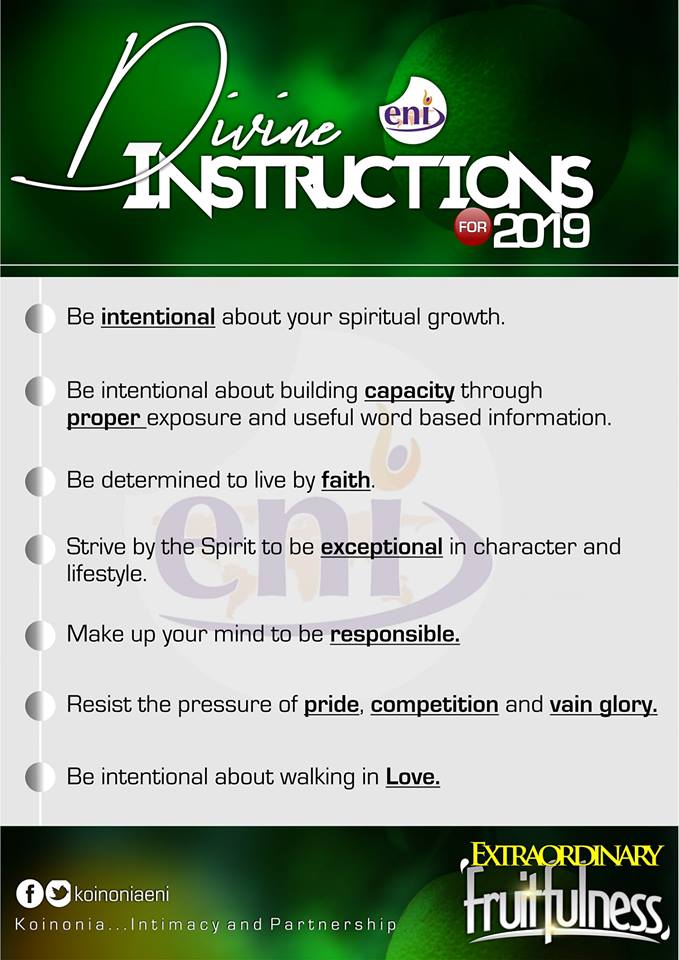 Prayer:
 Lord, I open up myself to the Ministry of Your Word to be trained and mentored.
Lord, give me the heart to abide by Your instructions.
Declare: In the Name of Jesus, I receive grace to be responsible.
Lord, I curse every spirit sponsoring pride in my life. Adorn my life with humility.
Lord, give me the grace to be obedient to divine instructions.
Prophecies:
Carry the evidence of strange wealth and prosperity, honor unprecedented, speed and progress.
Salvation Prayer:
You can only be extraordinarily fruitful when you are born again. Here's a call to surrender your life to God tonight. He is reaching out to you, heed His call.
Lord Jesus, I believe that You are the son of God. Today, I handover my life to You. I accept You as my Lord and Savior.
Announcement
Eternity Network International [Koinonia] School of Ministry[SOM] Provisional Admission and Guidelines List is out! You can Download and Check the List – Click Here
Click here to Download Extraordinary Fruitfulness First Koinonia Service with Apostle Joshua Selman Nimmak
You can download ALL Koinonia Messages 2011 till date by Clicking Here
IMPORTANT NOTICE
If you are using an Android Device you can Download Our Mobile App Glory Cloud to Download Phone Size Koinonia Messages Directly into your Device as well as Stream Koinonia Live Services among others.
You CAN Click Here to Download Glory Cloud from Google Play!